What to Do Before Getting Your Wedding Dress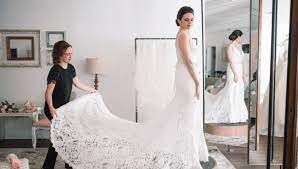 Every girl anticipates wearing her wedding gown or dress on her wedding day.
Dreaming about that wonderful moment when she goes down the aisle wearing that beautiful dress that sways as she moves, making everyone gasp and clap uncontrollably,
It can be challenging to find the ideal wedding dress.
Chances are, you have never browsed wedding dresses in Singapore before and you have many questions and things to think about.
To help you, here are some simple pieces of advice to help you have a wonderful and stress-free day shopping for your wedding dress.
Set a budget
It's crucial to establish your wedding dress budget before you do anything else.
With bridal packages Singapore, this can get easier.
Before you go on a shopping binge, be aware of how much money you have and how much you can spend; this will provide you with a starting point and point you on the right path.
In addition to the wedding dress itself, you will also need to account for additional hidden expenses like adjustments and shipping fees if you are purchasing your gown from abroad.
Don't forget your other accessories, which may include your heels, earrings, necklace, headpiece, and veil.
Never start looking for your wedding dress without having a budget in mind.
Imagine falling in love with a wedding dress you've tried on, only to learn that it is out of your price range and being forced to let it go.
Try on outfits that are within your means to spare yourself that anguish.
Never put on a dress that you can't afford.
There are countless gorgeous dresses available, so having a budget can help you focus your options.
Make sure to do your research.
Before you go out into the world, do your research. Flip through those bridal publications, use online bridal retailers, and then assemble your favourite items into a mood board. You can find a ton of information online; peruse it and get a sense of the styles you like. Knowing your interests can help your consultant choose and provide recommendations for outfits that will appeal to you.
Look around
If at all feasible, begin your search six to twelve months beforehand. This will allow you plenty of time to visit several bridal studios and will also offer you the choice to think about an international shipment.
Making an appointment can be challenging and take up to a month, particularly during peak times.
Gowns normally take 4 to 8 months to make, and with shipping and changes, the final turnaround time could reach ten months.
Your bridal store should be calling you to begin the alterations 1.5 months before your wedding.
The bride will need to travel two to four times (one week apart) to make all the necessary alterations.
Typically, a bride receives 2 to 3 outfits.
For the afternoon and evening portions, she will don different gowns.
Take a friend or two
Keep your group of shopping companions limited, and only invite one or two people whose judgment you respect and trust.
Avoid having too many individuals since their opinions will be too overwhelming.
Because each person has a different taste, you cannot please everyone.
What counts most is what you enjoy and how you feel in that outfit, both in terms of comfort and beauty.